The 2021 Subaru Love Promise Customer and Community Commitment Award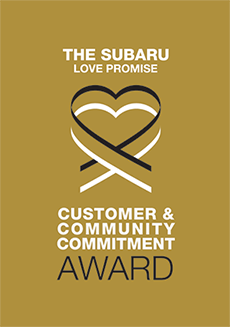 We've been nationally recognized for our dedication to our customers, our community, and the Subaru Love Promise.
We're honored to receive the 2021 Subaru Love Promise Customer and Community Commitment Award. This award nationally recognizes elite Subaru retailers who provide an exceptional customer experience at every interaction with Subaru. These retailers have also demonstrated an outstanding commitment to supporting passions and causes in their local communities in important areas such as the environment, community, health, education, and pets.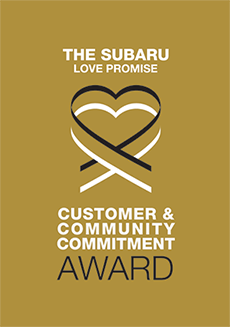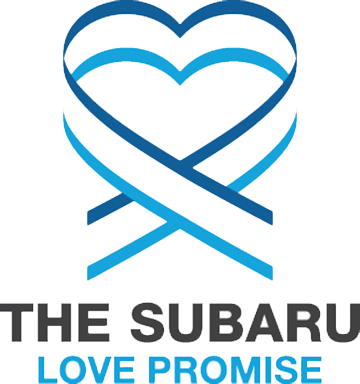 What is the Subaru Love Promise?
Subaru and our retailers believe in making the world a better place and the Subaru Love Promise is our vision of respecting all people. This is our commitment to show love and respect to our customers and to work to make a positive impact in the world.
How is Wagner Subaru dedicated locally to the Love Promise?
Our Love Promise can be seen in various partnerships with local charities and non-profits. We're grateful for the opportunity, not only to be a part of our community, but to serve it as well.
SICSA Pet Adoption Center
Glen Helen Nature Preserve, Five Rivers Metro Parks
The Foodbank, Inc., Daybreak
Dayton Children's Hospital
Love Promise Stories from Wagner Subaru
Subaru and Wagner Subaru believe in making a positive impact on the communities in which we live and work. We uphold that belief through our Love Promise Community Commitment. Every month, we select inspiring stories from customers and partners from around our area who strive to support our collective commitment and feature them here
Subaru's Adopt-A-Park Team Cleans Up! - Shelli D
The staff from Wagner Subaru and Subaru of America helped do spring cleaning at Eastwood MetroPark in Dayton, Ohio. The team used a kit from Five Rivers MetroPark's Adopt-A-Park volunteer event and picked up trash and litter in a park that includes a playground, many picnic areas, lagoons, biking and hiking trails and the Mad River. "This year's Adopt-A-Park was a little different, the service kits offered a flexible way to make an impact in our community by picking up litter in our parks and local green spaces all month long," said Jenny Hymans, human resources and volunteer services manager at Five Rivers MetroParks. "We appreciate Wagner Subaru's support in protecting the region's natural heritage and helping Five Rivers MetroParks provide clean, safe, beautiful outdoor spaces like Eastwood MetroPark for the public to get outside and explore all year long."
---
Share the Love with Roads to Recovery! - Simone E
This week Roads to Recovery received a $26,185 donation as part of the Subaru Share the Love event! To make the check presentation even more special, the Wagner team put a rooftop tent on one of their cars and invited our students and staff to have some extra fun playing outside in the tent! To say thank you to the dealership, our students made puzzle piece magnets to give to the sales team, which were perfect for Autism Awareness month. Wagner Subaru's donation will help our non profit continue to provide our exceptional 1:1 teaching services to the autism community. We are so grateful that Wagner Subaru chose us as their hometown charity for the Subaru Share the Love Event. This event is a great opportunity for us to grow! Thank you Wagner Subaru for being a great neighbor and friend to Roads to Recovery! We couldn't do what we do without you.
---
Wagner Subaru Supports Hunger Relief in Dayton! - Lee Lauren T
Fresh off the presses in Dayton Ohio! Local Subaru dealership Wagner Subaru rounds out their Subaru Love Promise campaign by donating 450 pounds of food to The Foodbank, Inc. This donation comes as an extension of Subaru of America, Inc.'s larger partnership with Feeding America. In addition to the food drive donation, The Foodbank, Inc. will also be receiving $25,375 as a result of the national campaign. This partnership with Wagner Subaru comes at a critical point of the year. As we continue to move away from the holiday season, we know that campaigns like this are crucial to our year-round operations and play a critical role in relieving hunger locally. The Foodbank, Inc. Family looks forward to continuing this wonderful partnership with Wagner Subaru!
---
Thank you for sharing the love with us! - Leigha H
We are so thankful for Subaru's Share the Love event! This amazing contribution has been so incredibly beneficial to our students! Because of the Covid pandemic this year, our potential for fundraising efforts in the community was very hampered. With funds from Share the Love, Roads was able to maintain the high standard of care for our students in which we pride ourselves. This generous donation allowed us to provide essential materials for our students to use in their therapy sessions, including curriculum, social skills building supplies, and sensory and motor activities and tools. 2020 has been a tough year for everyone, and Wagner was a saving grace for us! Thanks again, for sharing the love with us, Wagner Subaru!
---
Wagner Subaru Helps A Special Pet Find His Home - Kaitlin B
In the month of October, SICSA Pet Adoption and Wellness found loving homes for 207 animals. This was largely made possible thanks to the help of Wagner Subaru of Dayton. Not only did the retailer sponsor SICSA's "Adopt-ober Fest" adoption event, they also marketed adoptable animals on their social media platforms throughout the entire month. With their help, SICSA sent one very special resident to his forever home. Little Trooper was brought into SICSA by a good Samaritan. Originally found stray, tangled in a car engine, the kitten had a particularly challenging beginning to his story. When he first arrived, it was clear he would require extensive medical treatment for his ailments, including the amputation of his front left leg. Despite this new obstacle, Little Trooper quickly adjusted, never losing his sweet personality, and quickly becoming a staff and volunteer favorite. Even so, he struggled to find a forever home. Though mainly focusing on adoptable dogs through their "Mutt Monday" promotions for SICSA, the kind people at Wagner Subaru heard Little Trooper's story and offered to feature him on their social media. They filmed a video with him, providing adopters with information, and shared it with their audience. With their help, Little Trooper found his forever home! The staff and volunteers of SICSA were elated to see Little Trooper find his family! He now resides comfortably with his family, growing and enjoying his new life. This is in large part thanks to the kind people at Wagner Subaru. With their kindness and generosity, Little Trooper's journey took a turn from a bleak beginning to a happy "tail".
---
Wagner Subaru Helps Find Homes for Animals In Need - Grace W
This year for Subaru Loves Pets, we wanted to find a way to connect with the community virtually. We started filming weekly segments with adoptable dogs and cats at our local shelter, SICSA Pet Adoption and Wellness Center. Our #MuttMonday and #FelineFriday segments on Instagram, Twitter, and Facebook proved to be a successful way to engage with the community during the Subaru Loves Pets Event. Every adoptable animal we featured found a forever home, so we decided to continue our #MuttMonday and #FelineFriday videos past October! Once a month we get to film with SICSA and introduce loving animals in need of a home to our community online. So far, we have featured 11 adoptable animals from SICSA on our social media and all of them have found forever homes! I am honored to be a part of a company that allows us to give back to our local community in so many ways. We will continue filming adoption videos with SICSA for the foreseeable future!
---
Helping Homeless Neighbors in Need - Michael V
Wagner Subaru provided 80 outdoor blankets that will help many homeless Miami Valley residents stay warmer and drier this winter. Hundreds of people in Dayton and surrounding areas experience severe mental illnesses and addiction to drugs and alcohol, which keeps them chronically homeless. St. Vincent de Paul Society affirms the humanity of every person by providing individual accompaniment, clothing, food, and shelter. Family businesses like Wagner Subaru help us weave a web of love embracing our neighbors in need. Thank you!
---
Rehabilitating Raptors Get some Love! - Rebecca J
The Glen Helen Raptor Center in Yellow Springs, Ohio is a raptor rehabilitation and education center focusing on Ohio's native birds of prey. Our rehabilitation clinic receives around 200 birds annually for care, and our 25 educational ambassadors teach around 10,000 people the value of environmental stewardship and caring for the planet. After seeing our Rehabilitation spotlight on our Facebook page on Tuesday, Wagner Subaru came with a literal car-load of donations to help the educational ambassadors and rehabilitating patients at the Raptor Center today. These supplies help stretch our very small budget and allow us to provide life-saving medical care to more birds than we otherwise would be able to. During this time of Covid shut down, our educational programs, which is our primary source of income, have been put on hold while the world stays safe and practices social distancing. Without support like this, we would not be able to care for the sick, injured and orphaned birds that rely on us. Thank you Wagner Subaru. They truly know how to "Share the Love!"
---
Wagner Subaru bringing STEM Literacy to Students - Haley G
This year Wagner Subaru donated over 40 science books to our elementary class at Nightingale Montessori. 30 first through third graders were gifted a book to enjoy at home with their families. Some of our students do not have access to books in their homes. This donation also means so much to families in this time while we are doing remote learning. Wagner Subaru has donated books for back to back years. They go above and beyond for their community. As a teacher at Nightingale Montessori, I appreciate Wagner Subaru's donation. It was so meaningful to see the expressions on my student's faces when they learned they were gifted this book and that they "got to keep the books." I was asked if they "actually get to keep them" several times because they were in awe. I was also able to use the real-life book for many lessons because I knew my students would have access to the book. Any chance I can get my students away from "screen time" and using a real-life book is a win in my book. The books were also connecting real-life science concepts to students, helping them understand more about the world we live in. We are so appreciative! Thank you so much Wagner Subaru for supporting our learner's lives.
---
Subaru Car Wash - Roads To Recovery Autism Center - Simone E
Wagner Subaru is always eager to partner with us on any event, big or small. During our students' Summer Camp this month, our friends at Wagner Subaru helped us take it up a notch for our Monday camp plans. We were planning to play several field-day games like tug of war, water balloon toss, and obstacle courses. However, Wagner Subaru offered to bring over an Outback for the students to wash right in our schools' front yard! We collaborated with Wagner Subaru to get all of the supplies needed to make this activity happen. The team at Wagner's brought car wash supplies like soap, sponges, and towels so that all we needed was our hose and buckets! One student is even offering to wash his family members' cars at home now in exchange for sweet treats. The students had so much fun washing the car and taking turns spraying the hose. This car wash was a great way to teach our students practical life skills while having fun in the sun! We are so grateful for Wagner Subaru because they see the value in being part of their surrounding community. It was a pleasure to partner with Wagner Subaru on this fun camp event and it truly was the highlight of the week! The Wagner Subaru team and our teachers made sure to take lots of pictures of the children enjoying the car wash to share with our Roads to Recovery families. Thanks again Wagner for always being ready to play!
---
Canoegrass 2019 - Tom H
Canoegrass is a splashing in a lake, laughing with friends kind of bluegrass festival and campout. Our event is one of the most positive, loving and fun event you will ever attend. The event is gaining the attention of music lovers, families and outdoor enthusiasts from all over the midwest. We have Wagner Subaru to thank for a large part of the reputation and growth of our festival. The sponsorship and cross promotional efforts allow us to produce an event that might not happen otherwise. The Subaru love is a real thing and we are proud to have the corporate partnership and friendship with Wagner Subaru. Cheers to many years to come.
---
Roads To Recovery Golf Outing Partner - Simone E
Roads To Recovery Autism Center fundraised $14,203 at the 9th Annual DRIVE for Autism. It was an amazing event and Wagner Subaru's involvement was very big part of our success! Our autism center is always grateful for all of our repeat sponsors and golfers but Wagner stands out above the rest with their amazing above and beyond support! They are a truly dedicated sponsor and they help us get the word out to community so we can keep sharing our golf outing fundraiser with more and more community partners. The dealership brings volunteers from their staff, water, koozies, and all sorts of goodies for our golfers. This year was a record breaking year for golfers and funds raised and we could not have done it without Wagner Subaru! This love promise story is our huge thank you to Wagner Subaru for the 9th year of sponsoring our event, bringing teams and helping us grow our education based nonprofit!
---
Love Promise Stories from Wagner SubaruWarm Blanket - Amber H
On June 12th, 2019, Wagner Subaru and the Tri-State Chapter of the Leukemia and Lymphoma Society delivered 80 blankets for patients, craft kits for visiting children and "messages of hope" to the patients of Soin Cancer Center and Dayton Children's Hospital. Andrew Sheets and Amber Hydash, campaign specialists at the Leukemia and Lymphoma Society joined Hanna Lamb, Marketing Director of Wagner Subaru in presenting these gifts of warmth and support to Rick Dodds, President of Soin Medical Center, Cassandra Woodmansee, executive assistant for Kettering Cancer Care, Terri VanZant-Marvin, Director of Operations of Oncology Service Line as well as Barry Carr, oncology patient currently undergoing treatment. Barry expressed how superb his care has been as Rick Dodds noted, "With this blanket, you will be reminded that you have a team who supports and believes in you."Hannah Lamb, Wagner Subaru and Andrew Sheets, Leukemia and Lymphoma Society joined together presenting the craft kits and blankets to Rita Falkenbach, Child Life Specialist at Dayton Children's Hospital. Rita Falkenbach and Cassandra Woodmansee helped coordinate the delivery and expressed the happiness that this will bring to the patients' faces. LLS appreciates the whole team at Wagner Subaru for demonstrating that Subaru LOVES TO CARE!
---
Greene County Animals LOVE Wagner Subaru! - Julie
As we were preparing for our 3rd Annual "Great Shelter Breakout" 5K our "Wag" bag donor was unable to get our bags in time. Shari, our volunteer coordinator was at Wagner when the frantic call came in No BAGS! Hanna Lamb, Marketing & Events Coordinator for Wagner Subaru immediately went into action and rescued us by providing "Wagner Wag Bags!!" for our event on top of the already awesome silent auction gift they had already sent. Our 5k is a special way that we "Break out" our shelter animals for a fun day to be dogs and be with the people who love them. All proceeds from the fundraiser got into an animal care fund to help with the special needs of the pets while they are in our shelter waiting for their forever homes. This year event was our best year ever!
---
Share the Love with Roads to Recovery - hanna l
Roads to Recovery is a parent-funded, 501 (c) (3) non-profit organization serving families in the greater Dayton area who are impacted by Autism Spectrum Disorders. Wagner Subaru has selected R2R as the hometown charity for the Subaru Shares the Love initiative, for multiple years. In 2018, Wagner Subaru was able to raise $30,278 to go towards new programs and education materials for R2R. Bringing the 5 year total to $109,529!
---
Wagner Subaru Loves Pets! - Hanna L
During the month of October, Subaru celebrates our four-legged family members with the Subaru Loves Pets initiative! Wagner was so overwhelmed with how many people came together to help support our local rescue with donations of all kinds! During the month, SICSA hosted a pet adoption event and set records with the highest amount of animals adopted! They also joined Wagner Subaru for a Halloween Trunk or Treat event for the Ascent and brought along pups in the cutest costumes! They stole the show! Wagner has been so grateful for community leaders and individuals coming together to help show their support!
---
Wagner Subaru's Love Promise Brings Us Together - Katie N
People say it takes a village to raise a child. If that is true then the reported 6.5 million companion animals entering shelters each and every year in the US really need us all to come together to make a difference. And that is where Wagner Subaru really excels. Wagner goes the extra distance to be there throughout the year. They sponsor adoption events, invite us to their events like the Halloween Trunk or Treat event and so many other fun opportunities all designed to bring us together. This winter thanks to Wagner Subaru's Love Promise, SICSA hosted Paws to Celebrate a winter festival where we came together with our community including The Humane Society of Greater Dayton, The Animal Resource Center and Paw Patrol to celebrate the lives we save and families that we build together! This would not be possible, none of it would be possible without our amazing community partners like Wagner Subaru. Thank you for all you have done in the past to bring our village, our pack, together to look after the animals that need us.
---
Wagner Subaru at Nightingale Montessori - Guiya W
Nightingale Montessori would like to send a big thank you to Wagner Subaru! We were chosen as a school to receive one of their many donations that they make in our community. A representative visited our Hummingbird room to read a story. It was thoroughly enjoyed by all. Each Hummingbird,Chickadee, Eagle, Owl and Falcon received a free book to take home! Many school supplies were given to our classrooms and received with delight!
---
Tomfoolery and Wagner Subaru - Tom H
I am the owner of a playful company in Dayton, OH called Tomfoolery Outdoors. We specialize in getting people outside in quirky ways while trying to make our community a better place to live, work and play. Wagner Subaru has been the perfect partner in this mission to spread love and good vibes through the outdoors. They have sponsored several of my signature events over the last 4.5 years: Canoegrass, Urban Yoga Movement, Tomfoolery Dayton Beer Miler, and Paddling Film Festival. Their support has been a crucial part of growing the outdoor community and active lifestyle culture in our region. Frankly, my business wouldn't be what it is without that support. They aren't the type of company to write a check and wish you well, either. Their staff, friends, and family are right in the mix playing with all of the participants. It is rare to see them pass up a chance to have fun with our event guests. This is why they are way more than a car company. They are a valuable community asset that happens to sell cars. This is why they are so loved and respected in our community. It is also why I am so proud to call Wagner Subaru a friend and partner. Love the experience, Tom Helbig
---
Wagner Subaru and the LLS - hanna l
Recently Wagner Subaru was honored to contribute to Subaru's Love Promise during the annual Subaru Loves to Care program. This year Subaru partnered with The Leukemia and Lymphoma Society, which is one of the largest non-profit organizations dedicated to creating a world where blood cancers are obsolete. Prior to the event, Wagner Subaru set up a display in the showroom to provide more information for the benefit. Which included collecting care cards filled out by our loyal customers and staff filled with encouraging words. Care cards added a personal touch to the abundant number of blankets and craft kits that were provided by Subaru. Wagner Subaru was paired with two local hospitals, Soin Medical Center and Dayton Children's Hospital. We spent the afternoon delivering blankets for those individuals going through treatments. The blankets were a small gift for an at home feeling, bringing warmth and a little comfort while undergoing healing therapy. We were also happy to provide craft kits for children and their families while staying with the medical centers. They were packed with multiple mediums to help provide a wide array of activities. These small things that we were able to provide brought on a big impact. Not only for those we delivered to, but for us as staff. We were humbled to participate and share time to connect with unique patients.
---
Subaru Delivers Blankets to Children's - Cris P
Dayton Children's Hospital Child Life Specialist Rita Falkenbach was thrilled when Mike Reed, General Manager of Wagner Subaru and Cris Peterson, Dayton Area Director for the Leukemia & Lymphoma Society (LLS) stopped by with a special delivery. LLS and Subaru are community partners for the Subaru Loves to Care program and Dayton Children's was the recipient of warm blankets and craft kits for children hospitalized with cancer. According to Rita, anything to make the hospital stay for these kids a little brighter is a gift of love and we all know that Subaru loves to care!!
---
SICSA Pet Adoption Center - A Night to Remember - Katie N
Wagner Subaru helped to bring us together this holiday season here at SICSA Pet Adoption Center. This celebration is for the entire family, including family pets! We had a beautiful tree-lighting ceremony and blessing of the pets while inside the SICSA building, there was face painting, cookie - for both humans and dogs -- to keep everyone celebrating, photos with Santa, delicious goodies, refreshments and tours of the adoption center. Thanks in a large part to our friends at Wagner Subaru, this was not just a free event for the public but a fun and wonderful way to celebrate this year. THANK YOU!!
---
Wagner Subaru Loves SICSA Pets! - Jessie S
The Wagner Subaru Loves Pets adoption event was a tremendous success thanks to the generosity and dedication of Wagner Subaru. In addition to attending the event and providing new pet parent adoption kits for all our adopters, Wagner Subaru provided a sponsorship that allowed SICSA to waive all adoption fees. During this 1-day event, we sent 31 animals home to loving and excited families! Throughout the year, SICSA averages just over 30 adoptions each week, so to meet this goal in only one day is incredible - and we couldn't have done it without the support of Wagner Subaru!
---
Subaru Loves Learning and Roads To Recovery - Simone E
We love the Subaru Loves Learning Program! On September 12th, Wagner Subaru delivered over 125 brand new books to our autism center! It was a fabulous day. Subaru partnered with the American Association for the Advancement of Science for a book donation project. Roads received several different science based books to help inspire our students. Some of the books are really unique and will help our teachers with new ideas for easy projects that are also really fun for the kids. One of our favorites is a book called "Amazing Edible Science" which unites science with cooking. We are looking forward to making Glow-in-the-Dark Jello and Flip Flopping Pudding Cake soon! We are so thankful for wonderful programs like this!
---
Sharing the Love Comes Full Circle - Cris P
The sky was gray and rain was falling but the staff from the Leukemia & Lymphoma Society and Wagner Subaru were all smiles as we unloaded the Subaru full of blankets and craft kits. Along for the delivery was 26 year old LLS volunteer Caitlin Hensley, a leukemia survivor. Caitlin was thrilled to be a part of the Subaru Loves to Care blanket delivery as she said she "loves to be a part of the other side of cancer" helping others. For her, the journey has come full circle from being a patient like 10 year old Colton Hefner. diagnosed with leukemia on November 29, 2016. When our group walked in, Colton's eyes lit up like it was Christmas day! We presented him with a Subaru blanket and craft kit and he shared that he loves to play video games and football and can't wait to have his port removed to get back on the football field. Caitlin and Colton shared a special moment when she told him to "try to take each day one day at a time and to focus on the good things." Along with Subaru, she brought light to the darkness of cancer. We all left the room with tears in our eyes and a great appreciation for the partnership with Subaru and the Loves to Care program and the amazing work being done by the Leukemia and Lymphoma Society.
---
Subaru Loves the Earth 2017 - Shannon F
During the month of April, Subaru Loves the Earth supported the National Wildlife Federation initiative to help preserve our wildlife and habitats. Wagner Subaru had the pleasure of donating tools, seeds, bird houses and feeders to Nightingale Montessori! They are excited to continue to restore native habitats, one garden at a time!
---
Share the Love 2017 - Simone E
Roads To Recovery Autism Center would like to formally thank Wagner Subaru in conjunction with Subaru of America, Inc. for their recent donation of $16,301.00! We also thank our local community who purchased their new Subaru from WAGNER Subaru during the #SharetheLove event. With every new car purchase, the customer could chose from 5 national charities or our local charity to have a $250 donation made on their behalf. We are greatly humbled that so many of their customers chose to keep their donation local. Not only did the Wagner Subaru #SharetheLove event help spread autism awareness but it also provided a way for our non profit to reach out to local families in need.Wagner Subaru has not only reached out to Roads to Recovery Autism center by choosing us as their local charity for the #SharetheLove event but they also have reached out to us as a neighbor.
---
GCP&T's Doggie Dash 'n Splash - Gretchen R
Wagner Subaru has been a vital partner with Greene County Parks & Trails' Doggie Dash 'n Splash each year. The event celebrates the human-canine connection that most of us are lucky enough to experience. Although 'technically' the event is for the dogs, a quick glimpse of the festival grounds quickly illustrates that the two-legged participants are having just as much fun watching the dogs in the canine splash ground, the dog lure course, the canine demonstrations, exhibitors, contests and vendors. Funds from the event support the Scout Dog Park in Xenia, the first public dog park in Greene County. The support from Wagner Subaru each year has allowed GCP&T to add a third paddock last year - and Greene County's first canine plays cape will debut this year in the third paddock! Wagner Subaru understand the vital role played by pets in all of our lives...
---
Decking the Crosstrek with Wagner Subaru - Nora V
When the SICSA Pet Adoption Center received an opportunity to partner with a Subaru dealership for the ASPCA and Subaru Share the Love Event, we knew exactly with whom we wanted to collaborate - Wagner Subaru in Fairborn, Ohio. From our first meeting, these folks not only talk the talk, they walk the walk. It started with several of them pulling out pictures of their own rescued pets. They then bent over backwards to not only help us with our grant request, but to ensure the week long Deck the Crosstrek Challenge was a HUGE success! They allowed us to not only deck a Crosstrek at SICSA, but also another at their store in Fairborn. The result, thousands of donations for stray and homeless pets in our Ohio community. Add to that an excellent adoption event where four animals found their forever homes, and we were beyond thrilled. Clearly, we believe our partnership is a winning combination and one we hope to repeat in the future. Thank you so much, Wagner Subaru. You were a joy this holiday season!
---
Subaru loves what I love - Mark H
I bought my first Subaru from Wagner Subaru four years ago right after seeing the introduction of the Crosstrek at Outdoor X. Bo, Mike, Chris, Amanda, and the whole Wagner family were so obviously passionate about the potential of our region that I traded in my old car for the new Crosstrek the following week! I have come to find that Wagner Subaru supports so many of the things I am a part of or care about in the Miami Valley that I am not sure I can list them all, but I will try. Wagner's support for WYSO, Miami Valley Mountain Biking, Greene County Parks & Trails, Glen Helen, Yellow Springs community events, SISCA, Roads to Recovery, the Miami Valley Cycling Summit, and the Buckeye Trail are SO amazing, that my wife bought a new Crosstrek when I bought my second one this year. I entrusted Wagner Subaru with my daughter's first car as well. When I got into an accident last year, Wagner's amazing service department was there to explain things to my insurance company to insure my little Crosstrek was made whole. Identifying issues that both the adjuster and I missed. They really went to bat for me, and I appreciate them more than they know. Thank you for caring and sharing the love on so many levels. For me, Wagner puts the LOVE in Subaru.
---
Subaru Loves to Care - Cris P
The Tri-State Chapter of The Leukemia & Lymphoma Society was honored to be chosen by Wagner Subaru of Fairborn to partner in their summer Subaru Loves to Care event. LLS and Wagner Subaru staff members teamed up to deliver 100 beautiful, warm chenille blankets to area cancer patients in treatment at Dayton Children's Hospital and Soin Medical Center.
---
Wagner Subaru Outdoor Experience - Lucy S
We at Five Rivers MetroParks feel very fortunate to be one of the many great events Wagner Subaru chooses to support. Thanks to their contribution, we were able to keep the Wagner Subaru Outdoor Experience free and open to the public allowing over 20,000 participants to learn about new ways to play in the outdoors this year. From tots to adults, people got active trying biking, climbing, paddling, backpacking and over 20 other outdoor recreation activities. Wagner Subaru's commitment to community and getting more people outside is what makes Wagner Subaru such a great partner for our event.
---
Wagner Subaru Loves the Earth - Lucy S
In April, Wagner Subaru worked with Five Rivers MetroParks to help promote the importance of providing habitats for pollinators in our community. Dealership-goers were given packets of milkweed, a host plant for the monarch butterfly, and other native wildflower seeds to plant in their yard. Just like MetroParks encourages environmental education to connect with the outdoors, and then action to show commitment to protect the environment, Wagner Subaru, through signage, seeds and displays, both taught participants about the cool life-cycle of the monarch butterfly and then encouraged action to support this and other beautiful pollinators. The campaign ended with a Pollinator Party at Cox Arboretum, which had great success and raised funds for pollinator habitats, thanks in part to the extra promotion by Wagner Subaru. Thanks Wagner Subaru for helping us to share our love of the earth with others! -Lucy Sanchez, Five Rivers MetroParks Event Coordinator
---
Discover Classical - Adam A
Wagner Subaru has been a longtime program sponsor on Discover Classical 88.1 and 89.9FM, supporting Dayton's full-time classical music radio station. During a recent on-air pledge drive, Mike Reed and Shannon Foley of Wagner Subaru visited the studio and encouraged listeners to call the station to make contributions. They were enthusiastic participants in our fundraising efforts and we look forward to having them back.
---
2015 DRIVE for Autism - Simone E
Roads To Recovery hosts a yearly DRIVE for Autism at Sugar Valley Golf Club in Bellbrook. Wagner Subaru has partnered with Roads To Recovery for the past several years and this year we celebrated our 5th Annual golf outing on June 18, 2015 in which the dealership participated as our main sponsor. Along with Wagner Subaru, Roads To Recovery partnered with several local organizations such as Subway, various health practitioners and small businesses, family owned restaurants, and beverage distributors. The yearly event hosts upwards of 150 attendees including 120 golfers and 30 volunteers as well as 100 donators. This year's event was a huge success and thanks to Wagner Subaru and many other supporters we raised over $9,000 in funds which will be used to help to provide more free community events to Dayton families affected by Autism Spectrum Disorders.
---
Roads to Recovery partnership - Peter G
Wagner Subaru in Fairborn Ohio has selected Roads to Recovery as their local Share the Love charity. Wagner not only donates money to Roads to Recovery, but our staff and Dealer Principal Bo Wagner commit a significant amount of our personal time and resources to the organization. They are a learning and resource center for children with autism and their families. They are an approved Autism Scholarship Provider with the Ohio Department of Education. This program allows families affected by Autism Spectrum Disorders to expand their child's educational options to achieve the greatest learning potential. They provide tutor payroll, oversight of quarterly progress reports, purchase of approved scholarship educational materials, preparation of quarterly reports, and quarterly accounting of ASP funds.
---