The 2021 Subaru Love Promise Customer and Community Commitment Award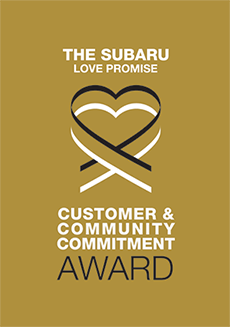 We've been nationally recognized for our dedication to our customers, our community, and the Subaru Love Promise.
We're honored to receive the 2021 Subaru Love Promise Customer and Community Commitment Award. This award nationally recognizes elite Subaru retailers who provide an exceptional customer experience at every interaction with Subaru. These retailers have also demonstrated an outstanding commitment to supporting passions and causes in their local communities in important areas such as the environment, community, health, education, and pets.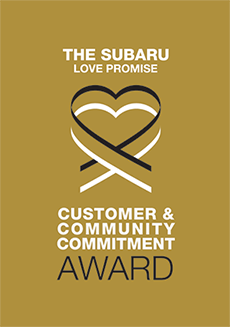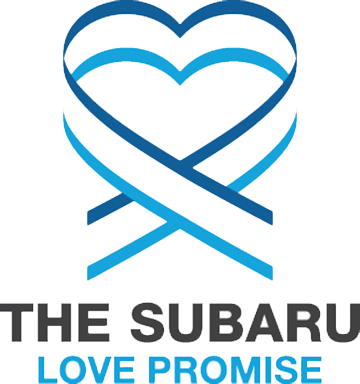 What is the Subaru Love Promise?
Subaru and our retailers believe in making the world a better place and the Subaru Love Promise is our vision of respecting all people. This is our commitment to show love and respect to our customers and to work to make a positive impact in the world.
How is Wagner Subaru dedicated locally to the Love Promise?
Our Love Promise can be seen in various partnerships with local charities and non-profits. We're grateful for the opportunity, not only to be a part of our community, but to serve it as well.
SICSA Pet Adoption Center
Glen Helen Nature Preserve, Five Rivers Metro Parks
Roads to Recovery, Nightingale Montessori
The Foodbank, Inc., Daybreak
Dayton Children's Hospital
Love Promise Stories from Wagner Subaru
Subaru and Wagner Subaru believe in making a positive impact on the communities in which we live and work. We uphold that belief through our Love Promise Community Commitment. Every month, we select inspiring stories from customers and partners from around our area who strive to support our collective commitment and feature them here
Subaru Loves Learning at Nightingale Montessori - Maria T
We are so thankful for the Subaru's Loves Learning Program! This amazing Adopt-A-Classroom Program will benefit 10 classrooms and 167 students at Nightingale Montessori! Not only are we excited to be back to in-person learning and out of the COVID-19 teaching year, but we are also excited to receive this generous gift of many much-needed classroom supplies. Thanks to Subaru's Loves Learning Adopt-A-Classroom program funds teachers can continue to expand learning opportunities and experiences for students. The generous donation allows teachers the freedom to create learning experiences and the resources to make them happen. We are ready to move into the 2020-2021 year and get back into the classroom to design, to create and to learn! It was a tough year for all of us last year and thanks to Wagner Subaru, our comeback year is starting off with a BANG! Thanks again Wagner Subaru for supporting Nightingale Montessori with Subaru Loves Learning!
---
Wagner Subaru brings Car to Summer Camp! - Haley G
Roads to Recovery is an Autism Resource Center in Fairborn, Ohio. In August, we had our second annual week long summer camp! Fifteen students on the Autism spectrum participated in our camp, doubling our size from last Summer! Each day we had different themes, such as camping day, water day, jungle day, outdoor play day, and bouncing day! For our water day, Wagner Subaru brought over a service car for our students to wash! The kids loved filling up the buckets, and using sponges to wash the Impreza! Grace Wagner from Wagner Subaru even showed our students how to use the squeegee to get the water off! All of our students had a blast washing the car. Thank you Wagner Subaru for making our Camp Week so great!
---
Roads To Recovery 'DRIVE For Autism' Golf Outing - Simone E
Wagner Subaru sponsored our 10th Annual 'DRIVE for Autism' Golf Outing at Sugar Valley Golf Club on June 17th! Wagner's sponsorship included showcasing a Subaru vehicle at the event and hosting a tent to greet golfers, hand out Subaru coolers and Subaru swag to over 95 golfers. The dealership team also helped our volunteers staff a fun 'Game Hole' to interact with our golfer guests and make their day more enjoyable on the course. Wagner brought 2 teams to play in the outing and also provided some great raffle prizes for our golfers to bid on. We loved their Subaru Loves Pets basket and the Logo Camping Chairs and Table Set. We are so thankful to have Wagner Subaru's support for the past 10 years at this yearly fundraising event. The continuing friendship that Subaru brings is so important to our autism center. We are grateful for Wagner Subaru!
---
Subaru's Adopt-A-Park Team Cleans Up! - Shelli D
The staff from Wagner Subaru and Subaru of America helped do spring cleaning at Eastwood MetroPark in Dayton, Ohio. The team used a kit from Five Rivers MetroPark's Adopt-A-Park volunteer event and picked up trash and litter in a park that includes a playground, many picnic areas, lagoons, biking and hiking trails and the Mad River. "This year's Adopt-A-Park was a little different, the service kits offered a flexible way to make an impact in our community by picking up litter in our parks and local green spaces all month long," said Jenny Hymans, human resources and volunteer services manager at Five Rivers MetroParks. "We appreciate Wagner Subaru's support in protecting the region's natural heritage and helping Five Rivers MetroParks provide clean, safe, beautiful outdoor spaces like Eastwood MetroPark for the public to get outside and explore all year long."
---
Share the Love with Roads to Recovery! - Simone E
This week Roads to Recovery received a $26,185 donation as part of the Subaru Share the Love event! To make the check presentation even more special, the Wagner team put a rooftop tent on one of their cars and invited our students and staff to have some extra fun playing outside in the tent! To say thank you to the dealership, our students made puzzle piece magnets to give to the sales team, which were perfect for Autism Awareness month. Wagner Subaru's donation will help our non profit continue to provide our exceptional 1:1 teaching services to the autism community. We are so grateful that Wagner Subaru chose us as their hometown charity for the Subaru Share the Love Event. This event is a great opportunity for us to grow! Thank you Wagner Subaru for being a great neighbor and friend to Roads to Recovery! We couldn't do what we do without you.
---
Wagner Subaru Supports Hunger Relief in Dayton! - Lee Lauren T
Fresh off the presses in Dayton Ohio! Local Subaru dealership Wagner Subaru rounds out their Subaru Love Promise campaign by donating 450 pounds of food to The Foodbank, Inc. This donation comes as an extension of Subaru of America, Inc.'s larger partnership with Feeding America. In addition to the food drive donation, The Foodbank, Inc. will also be receiving $25,375 as a result of the national campaign. This partnership with Wagner Subaru comes at a critical point of the year. As we continue to move away from the holiday season, we know that campaigns like this are crucial to our year-round operations and play a critical role in relieving hunger locally. The Foodbank, Inc. Family looks forward to continuing this wonderful partnership with Wagner Subaru!
---
Thank you for sharing the love with us! - Leigha H
We are so thankful for Subaru's Share the Love event! This amazing contribution has been so incredibly beneficial to our students! Because of the Covid pandemic this year, our potential for fundraising efforts in the community was very hampered. With funds from Share the Love, Roads was able to maintain the high standard of care for our students in which we pride ourselves. This generous donation allowed us to provide essential materials for our students to use in their therapy sessions, including curriculum, social skills building supplies, and sensory and motor activities and tools. 2020 has been a tough year for everyone, and Wagner was a saving grace for us! Thanks again, for sharing the love with us, Wagner Subaru!
---
Wagner Subaru Helps A Special Pet Find His Home - Kaitlin B
In the month of October, SICSA Pet Adoption and Wellness found loving homes for 207 animals. This was largely made possible thanks to the help of Wagner Subaru of Dayton. Not only did the retailer sponsor SICSA's "Adopt-ober Fest" adoption event, they also marketed adoptable animals on their social media platforms throughout the entire month. With their help, SICSA sent one very special resident to his forever home. Little Trooper was brought into SICSA by a good Samaritan. Originally found stray, tangled in a car engine, the kitten had a particularly challenging beginning to his story. When he first arrived, it was clear he would require extensive medical treatment for his ailments, including the amputation of his front left leg. Despite this new obstacle, Little Trooper quickly adjusted, never losing his sweet personality, and quickly becoming a staff and volunteer favorite. Even so, he struggled to find a forever home. Though mainly focusing on adoptable dogs through their "Mutt Monday" promotions for SICSA, the kind people at Wagner Subaru heard Little Trooper's story and offered to feature him on their social media. They filmed a video with him, providing adopters with information, and shared it with their audience. With their help, Little Trooper found his forever home! The staff and volunteers of SICSA were elated to see Little Trooper find his family! He now resides comfortably with his family, growing and enjoying his new life. This is in large part thanks to the kind people at Wagner Subaru. With their kindness and generosity, Little Trooper's journey took a turn from a bleak beginning to a happy "tail".
---
Wagner Subaru Helps Find Homes for Animals In Need - Grace W
This year for Subaru Loves Pets, we wanted to find a way to connect with the community virtually. We started filming weekly segments with adoptable dogs and cats at our local shelter, SICSA Pet Adoption and Wellness Center. Our #MuttMonday and #FelineFriday segments on Instagram, Twitter, and Facebook proved to be a successful way to engage with the community during the Subaru Loves Pets Event. Every adoptable animal we featured found a forever home, so we decided to continue our #MuttMonday and #FelineFriday videos past October! Once a month we get to film with SICSA and introduce loving animals in need of a home to our community online. So far, we have featured 11 adoptable animals from SICSA on our social media and all of them have found forever homes! I am honored to be a part of a company that allows us to give back to our local community in so many ways. We will continue filming adoption videos with SICSA for the foreseeable future!
---
Helping Homeless Neighbors in Need - Michael V
Wagner Subaru provided 80 outdoor blankets that will help many homeless Miami Valley residents stay warmer and drier this winter. Hundreds of people in Dayton and surrounding areas experience severe mental illnesses and addiction to drugs and alcohol, which keeps them chronically homeless. St. Vincent de Paul Society affirms the humanity of every person by providing individual accompaniment, clothing, food, and shelter. Family businesses like Wagner Subaru help us weave a web of love embracing our neighbors in need. Thank you!
---